COMPASSIONATE
PROFESSIONAL
Chino Hills Estate Planning & Business Law Attorney
At Clavel law, I set out to create a firm that people could trust. Whether you're looking to set up an estate plan or you're looking for trusted legal counsel for your business, my goal is to do whatever I can to help you succeed.
Robert Clavel
ATTORNEY AT LAW
When you work with Clavel Law, I want you to be able to rest easy knowing your needs are taken care of. My firm specializes in estate planning, business planning, and personal injury law. I'm proud to go above and beyond to ensure your needs are met. My goal is to set you and your family up for a bright and successful future through sound legal strategies and counsel that you can trust. I value the relationships I have with my clients, which is why at Clavel Law you'll never be just a case number — but rather a valued client and partner.
Why You Should Have An Estate Plan
Ensure your assets are protected.
You've worked hard to build the life that you have. A proper estate plan can protect the assets you have so they won't be seized and sold in the event of your death.
Plan a future for your family.
Perhaps the biggest benefit of an estate plan is ensuring that your family is taken care of when you're gone. You can provide financial security for those who matter most.
Estate plans can be affordable.
Most people assume that setting up an estate plan is expensive and time-consuming. My job is to simplify the process with flat-fee plans that you and your family can afford.
No time is better than the present.
I always try to remind my clients that it's never too early or too late to begin planning for the future. Setting up an estate plan can provide you with invaluable peace of mind.
Business law issues require experience & forward thinking. My job is to help your business succeed.
When it comes to legal issues with your business, you can never be too careful. Whether you're a small business owner or a larger corporate entity, your business is your life. At Clavel Law, my clients know that their business needs always come first. From simple contract reviewing and drafting to asset protection and tax strategies, I'm here to do whatever I can to help your business succeed. I can also assist with other business transaction services that are measured to raise your bottom line. Whatever you're facing, I've got your back.
Very Personable
Not only was the lawyer professional and qualified to answer my legal questions, but I found him very personable and understanding of the challenges surrounding my legal dilemmas.
Exceptional Consultation
Exceptional consultation and service! Robert made us feel so comfortable and confident as he helped us protect our small business and set up a trust for our family. Very easy to talk to, and very knowledgeable in his field. Would definitely recommend Clavel Law to family and friends!
Very Professional
I very much enjoyed working with Robert at Clavel Law! He was very professional and listened to my needs. He was very responsive when I contacted him with questions and always had answers for me. I highly recommend working with him!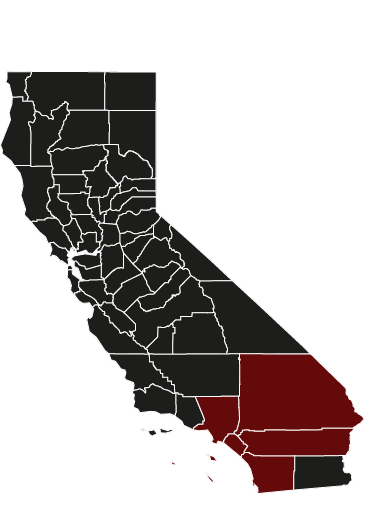 Proud To Serve San Diego
San Bernardino County
With beautiful mountainous views and a diverse population, San Bernardino County is home to one of my two office locations.
Orange County
With attractions like Disneyland and Knott's Berry Farm, Orange County has become a popular vacation destination for tourists.
Riverside County
Spanning from the Greater Los Angeles area to the Arizona border, Riverside County is a robust area that I'm proud to serve.
Los Angeles County
With more than 10 million inhabitants, Los Angeles County has become the largest non-state level government entity in the U.S.
Committed To Protecting & Enriching The Lives of You & Your Family
When I first opened the doors to Clavel Law, my goal was to serve as a reliable and trusted legal resource for individuals and families across Southern California. Legal issues rarely come with guarantees, but I can assure every single client I work with that I'll be there to serve their legal needs at each and every turn.
Whether that's through preserving and developing your business or simply helping you and your family plan for the future, I'm here to help you find success. Through strategic legal strategies and savvy decision-making, I'm proud to offer the legal support you need.
I originally set out to establish my own firm because I wanted to take a different approach to providing legal services. My goal is to provide excellent legal counsel and representation that can be tailored to the unique needs of each client's situation. My clients know that I'm here for them, no matter what legal challenges they may be facing.
My firm is committed to providing you with the individual care and attention you deserve throughout every phase of the legal process. Whether I'm working for you, your family, or your business, you can rest assured that your case is in good hands.